9/26/2018 – CCFP Receives $7,500 in Funding from the Archbishops Annual Appeal
8/16/2018 – CCFP Partners with Cheshire West Community Butterfly Gardens
9/22/2017 – CCFP Receives $7,300 in Funding from the Archbishop's Annual Appeal
9/6/2017 – New Employees For the Cheshire Community Food Pantry
2016
Waterbury Republican-American: Cheshire Food Pantry Grand Opening
http://www.rep-am.com/news/news-videos/2016/12/04/cheshire-community-food-pantry/
Meriden Record-Journal Online:  Cheshire Food Pantry Grand Opening
http://www.myrecordjournal.com/news/cheshirecitizen/cheshirenews/9684180-154/new-cheshire-food-pantry-to-open-this-week.html
New Haven Register Online: Cheshire Food Pantry Grand Opening
http://www.nhregister.com/general-news/20161202/cheshire-community-food-pantrys-new-facility-to-open-monday
FOX61.com: Cheshire Food Pantry Grand Opening
http://fox61.com/2016/12/04/food-pantrys-new-space-will-help-more-people-in-cheshire/
Harte Auto Group Announces September "Drive with Harte" Charity Contest Winner
Harte Auto Group proudly sponsors a monthly Drive with Harte Charity Contest on Facebook.  Each month, participating local charities have the opportunity to win $5000 by motivating their support network to vote on each of Harte's facebook pages.
HARTFORD, Connecticut – The Harte Auto Group is proud to announce that the Cheshire Community Food Pantry is the winner of our September 2016 Drive with Harte Charity Contest.
Patty Hartman, Executive Director of the Cheshire Community Food Pantry was joined by Tina Kurtz, Vice President of Resource and Development to accept the $5000 donation from Gregory and Thomas Harte.  Harte Nissan of Hartford employees were also on hand to honor this occasion.
This is the fourth month of the Harte's Drive with Harte Charity Contest.  A $5000.00 donation was made to the local charity, Camp Courant in June, to the Elks Lodge #1537 of West Haven in July and to the Connecticut Family Support Network of North Haven in August.
About Harte Auto Group: The Harte Auto Group is a collection of dealerships in Connecticut selling primarily Nissan and Infiniti vehicles.  We also proudly offer the all NEW MV-1 wheelchair accessible vehicle and a vast array of quality used cars.  At Harte, we strive to make buying or leasing a new vehicle a pleasant and rewarding experience. Please visit our website, www.hartecars.com to review our extensive inventory of cars and SUVs. We work with a vast array of lending sources to make sure you will get the most complete and comprehensive financial package available. That new or used vehicle is waiting for you, so call or come visit us today!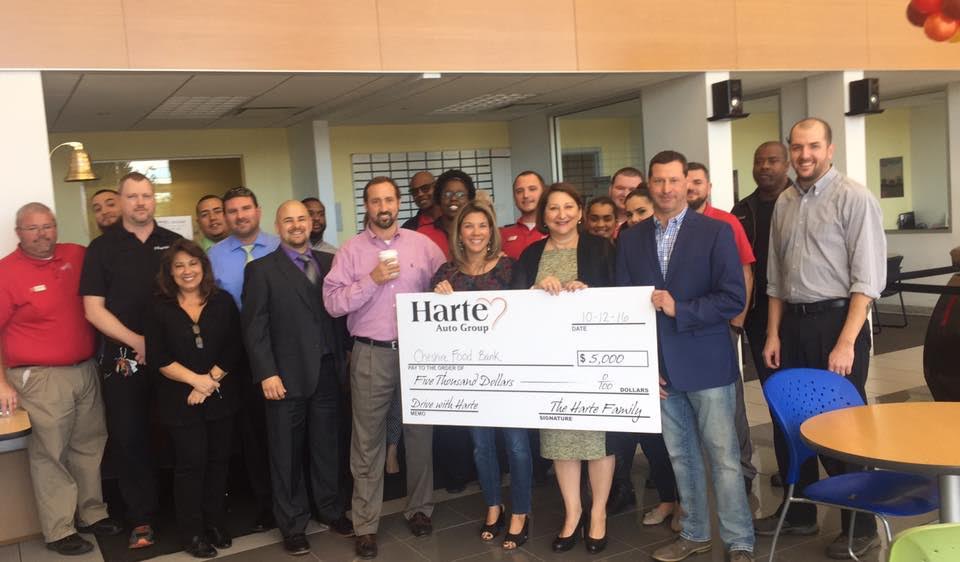 Building Progress Pictures
News
Funding for New Pantry Facility
http://www.cheshirecitizen.com/news/allnews/3748474-129/bartolomeo-announces-funding-for-cheshire-food-pantry.html
Construction Approved for New Pantry Facility
http://www.rep-am.com/articles/2014/12/10/news/local/848260.txt
Cheshire Garden Club Food Drive
http://www.cheshiregardeners.org/uploads/press_coverage_Suburban_Garden_Club_Donates_to_Food_Pantry_Cheshire_Herald_June_5_2014.pdf
Day of Kindness
http://www.cheshirecitizen.com/news/allnews/6421537-129/day-of-kindness-aids-food-pantry.html
Stuff a Cruiser
http://www.cheshirecitizen.com/news/allnews/2881872-129/stuff-a-cruiser-set-to-collect-for-thanksgiving.html
BCI Shred Event to support the Cheshire Pantry
http://www.cheshireherald.com/node/9947
Letter to the Editor: Donate to the Cheshire Food Pantry
Town Council Donates to Cheshire Food Pantry
Donations Will Help "Stamp Out Hunger"