Who We Are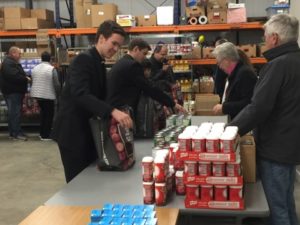 The Cheshire Community Food Pantry (CCFP) provides food to Cheshire residents in need.  In partnership with interdenominational organizations in Cheshire, the Pantry provides services which improve the quality of life of individuals and families.
The Cheshire Community Food Pantry, Inc. is a tax-exempt 501(c)(3) organization and donations to it are tax-deductible. Donors receive an acknowledgement for their gift upon request.


Cheshire Community Food Pantry is different from many food pantries because it uses a client-choice model in which clients are allowed the freedom to select their own groceries. This model provides food subsidies to low income families in crisis, while nurturing their ability to be independent and take control of their life.
Our History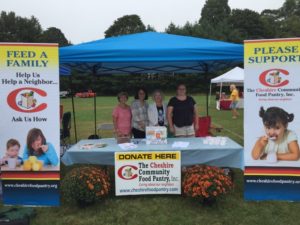 The first organized community food pantry in Cheshire was located at St. Bridget Church on Main Street. The tradition of caring for the less fortunate is nothing new at the church and began with the formation of the St. Bridget's Guild in the fall 1934, primarily to care for the needy. The groundwork was set at the direction of Mrs. James H. Darcey, President and in 1985 it was determined that the establishment of a formal food pantry was necessary to serve our friends and neighbors living in Cheshire and the surrounding towns.
At the direction of Pastor James Gunnoud (retired) and the late Reverend Brian Monnerat, the pantry provided weekly food supplies to the needy. In 1985, Mary Alice Lee was appointed the first Director. She, along with other volunteers organized and set up a pantry in a locker room near the entrance of the St Bridget School. The pantry continued operating until 1995 when it moved to a 450 square foot, freestanding building near the southeast corner of the school parking lot. This building served as the pantry for the next fifteen years. Subsequently, parishioners Judy Proulx and Harriet Rybicki were appointed pantry directors.
In the summer of 2009, Pastor Robert Ricciardi asked several people from within the parish and local community to serve on an advisory committee to assess the needs and logistics of the pantry operations.  After studying the situation, the committee determined that, with a downturn in the economy and the resulting growing need for the pantry services, especially by senior citizens,  and  with the physical limitations and location of the existing building at St. Bridget, an alternate location needed to be explored.
In 2011 the Cheshire Community Food Pantry, Inc. was established as a 501 (C)(3) charitable organization; a successor organization to the Food Pantry at St. Bridget.  With continued efforts the pantry grew and was able to host a Capitol Campaign to raise funds and build a 6,000 square foot facility where we operate today. Daily pantry business is carried on by seventy five volunteers and managed by Executive Director and Pantry Manager who are appointed