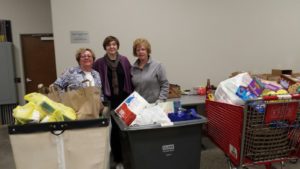 At this time the pantry is looking for a very specific skill set of volunteers. We have over 80 individuals who dedicate time to us each week and at this time most of our daily tasks are taken care of! Please see the below volunteer job listings for open positions. Applications should only be completed if you are interested in the below descriptions. Please note on your application which position you are looking for.
Maintenance/Grounds-keeping – At this time we are in need of an individual whom would be interested in helping occasionally with maintenance needs. This can include but is not limited to changing furnace filters, changing light bulbs, cleaning light fixtures, assisting with hanging pictures or other items, lifting or moving heavy objects.

Research & Statistics – We are looking to increase our resources on food insecurity in CT & Cheshire specifically. The individual working on this would be able to work from home in looking up facts about food insecurity. We then need the facts formatted for social media to be shared at various times throughout the year.
People interested in volunteering can fill out the PDF Application or submit the application online. These can be forwarded to the Executive Director, April Duquette, aduquette@cheshirefoodpantry.org. New volunteers are required to attend a brief orientation. Volunteers must be over 18 years of age and be able to life 25 lbs. We do not accept volunteer applications for Court Ordered Community Service.
The Cheshire Community Food Pantry, Inc. has been able to meet the needs of the community because of the generosity of its donors and volunteers. Thank you
Do you have a child interested in volunteering for the pantry? Click here for volunteer opportunities for children under the age of 18.