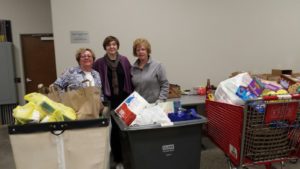 We are always looking for volunteers to help in many ways. Are you a member of a civic organization that might not know about us? Do you have a particular skill that you would like to share?  Fundraising? Community Organizing? Graphic Design? Contact us about organizing your own fundraiser (like a neighborhood collection or community group collection) or helping us out with ours. We will try our best to match your skills and availability with our needs.
People interested in volunteering can fill out the PDF Application or submit the application online. These can be forwarded to the Executive Director, April Duquette, aduquette@cheshirefoodpantry.org. New volunteers are required to attend a brief orientation. Volunteers must be over 18 years of age and be able to life 25 lbs. We do not accept volunteer applications for Court Ordered Community Service.
The Cheshire Community Food Pantry, Inc. has been able to meet the needs of the community because of the generosity of its donors and volunteers. Thank you
Below please see a listing of current volunteer openings.
– Watering, Weeding & Harvesting our Garden from May-September. We are looking for volunteers to take at least one shift a week (morning or evening) to water, weed & harvest our garden. 
– On Call Pantry Volunteer. To be called in to work with clients and/or our warehouse on an as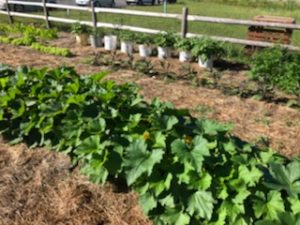 needed/occasional basis. Orientation & training will be required prior to joining this list.
– General Cleaning – Wiping down shelving units, washing glass windows
– Website Content Creator. Help us pull together and write content for our website.
To volunteer for one of these openings complete our volunteer application!
Do you have a child interested in volunteering for the pantry? Click here for volunteer opportunities for children under the age of 18.