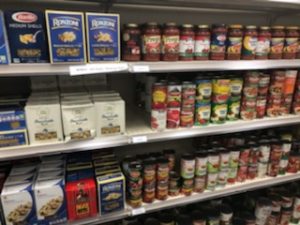 Each week our families shop at the food pantry. We have a client choice system where they are able to choose the items that best fit their family and their needs. In addition to the weekly shopping that include nonperishable items, frozen items & meat as well as fresh produce we host programming throughout the year. Please see our additional benefits below.
Easter & Passover – We provide hams or whole chickens to our families depending on their preference for their given holiday
Birthday Bags – Every child under the age of 12 receives a bag the week of their birthday. The bag includes a few age appropriate toys as well as  cake mix for the family to enjoy the day of their special event.
Back to School Program –
Please email with inquiries: bts@cheshirefoodpantry.org
Each year we host a Back to School Drive for children heading back for the school year. We give the parents a survey requesting sizes, colors & style specifications. These sheets include socks, underwear, undershirts, pants, shirts, sweaters, backpack & sneakers. Those forms are then assigned a number and we send out a call to the public for their help. Individual families or businesses then "Adopt" a child for the school year. They receive the sheet with the child's specifications and do all of the shopping. We then package the items and give them to the families a week to two weeks before school starts. In addition to this we host a school supply drive where individuals or groups can drop off school supplies. We then create a table for families to choose what their child needs for the school year.
Winter Coat for Kids – We again request families to complete a form with their child's size, color, and style specifications. The forms are then given a number to maintain anonymity for the child and ask for the public's assistance. Every school age child is provided with a winter coat for the year.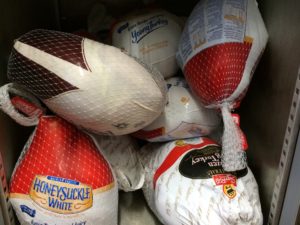 Thanksgiving Bags/Boxes – Every family is allowed to choose a chicken or turkey for Thanksgiving. In addition to this we provide everything they need for their Thanksgiving meal. This includes but is not limited to fresh potatoes, sweet potatoes, squash, carrots, onions and apples. As well as boxed potatoes, stuffing, gravy, canned pumpkin, corn bread mix, pie crust mix, corn, green beans, fried onions, condensed milk, marshmallows, flour, sugar and oil.
Holiday Gifts – We partnered with St. Bridget of Sweden Parish on their Annual Giving Tree program. This program provides children 13 and under with Christmas gifts. Children fill out their wish list and then they are assigned a number to remain anonymous. Those items from their list are then placed on a star on a tree at St. Bridget's. Families in the community then shop for those children and donate the items.
Toiletries for Teens – Children ages 14-19 receive a basket with toiletry items donated by Stop & Shop. Each basket also includes a gift card for the child to do some shopping of their own.
Seasonal Items – We often receive donations of seasonal items from local stores. We then store these items and put them out when the time is right. These items consist of Halloween decorations, Christmas or Hanukkah decorations, summer items like mini grills or candles. It is always a surprise to us however we know that families use these items to help decorate their homes for the given season.
Please email: info@cheshirefoodpantry.org with questions.